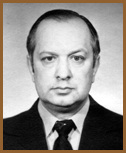 Kormer Vitaly Abramovich
Vitaly Abramovich Kormer was born December 2, 1930.
Since 1956 Mr. Kormer has been working in Synthetic Rubber Research Institute (SRRI).
V.A. Kormer has graduated from Leningrad Institute of Technology. Anatoly Aleksandrovich Petrov, an outstanding specialist in organic chemistry, Corresponding Member of Russian Academy of Sciences, was Mr. Kormer's scientific adviser.
Doctor of Chemical Sciences, professor Vitaly Abramovich Kormer is the author of over 500 scientific works which were published in many Russian and foreign periodicals.
Mr. Kormer has been awarded the S.V. Lebedev Prize of the Russian Academy of Sciences. Vitaly Abramovich has made important contributions to science, to the formation of the Russian synthetic rubber industry; he has organized several scientific researches on synthetic rubber processing in industry. Many important chemists, including Candidates and Doctors of sciences, have been trained under the direction of V.A. Kormer.
In 1988 Mr. Kormer has headed the SRISR after his colleagues have elected him Director for the first time in the institute's history.
Mr. Kormer's high prestige in scientific circles has allowed to preserve his team's integrity and efficiency, and also to develop contacts with many institutes and companies in Russia and abroad.
The institute's unique inventions are much in demand in our country and abroad, thanks to his great personal contribution. Mr. Kormer has been decorated with the Valorous Labor medal, and he has received the honorable title of Merited Scientist of the Russian Federation.


go back

go top

go home

russian version