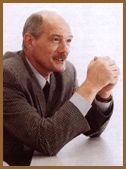 Korkunov Vladislav Nikolaevich
Born in December, 1948, in Leningrad. His parents worked at the industry merger Svetlana.
After school finishing wished to become a pilot, but due to a number of reasons entered the higher school attached to the Leningrad Metallic Plant. Has a higher education --turbine building engineer.
Ran in the second Leningrad team of track and field athletics at distances of 60, 200 and 1000 meters.
Was drafted to join the Armed Forces. Served as a commander of a tank platoon, company.
In 1974 started working in the Leningrad Department of Teploenergoproject (nowadays the St. Petersburg Research and Design Institute Atomenergoproject). An engineer, a senior and leading engineer, the head of a group. As a member of expert committees participated in designing, building and launching of nuclear power stations abroad. Then turned to party work.
In 1980-1985 was a secretary of the Institute Party Committee. In 1995 began to head the institute. Married. Two children. The spouse is Deputy Director of a secondary school. His elder son is occupied with heat-and-power engineering; the daughter is a student of the St. Petersburg Technical University (the speciality "National Economy").
Lives in a three room flat.
Drives since 1988. Began with his father's Moskvich-403 of 1963. Two years ago bought Opel Astra.
Likes to gather mushrooms, walk in a forest, talk to the stars. Is fond of skiing, billiard.
At the present time is Director of the St. Petersburg RDI Atomenergoproject.


go back

go top

go home

russian version