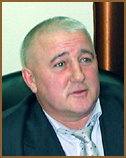 Tsapu Leonid Ivanovich
Director General, JSC Petrotrest. Honorary constructor of the Russian Federation.
Born November 23, 1955, in Moldavia. Studied in the Kishenev Constructing Technical School; in 1974 graduated from the technical school No.64 in Leningrad. After graduation worked in Krasnodar Krai, studied in the Novosibirsk Institute of Marine Engineers. Graduated from the St. Petersburg University of Architecture and Construction and the Smolny University with honours in 2001. Received a higher economical education (Finance and Credit). At present is a full member of the International Academy of Investments and Construction Economy, honorary academician of the Russian Academy of Science, lecturer of the Department of Construction Economy in the University of Architecture and Construction.
In spite of work pressure connected with running the company, Leonid Ivanovich keeps on working for science: gives lectures, is a post-graduate student to be a candidate of economic sciences. Leonid Ivanovich developed a complex system for quality management of construction and mounting works, which has been realized while constructing of office buildings, banks, trade and medical institutions, houses.
Run by him, JSC Petrotrest has become one of the leading construction companies of the city. The company has many awards, among them is the diploma of the first degree by Russian Gosstroy ("State Construction"). Petrotrest has the third place in its category of the rating "Leaders of the Russian Construction Complex".
Leonid Ivanovich has also the titles of Honorary Constructor of the Russian Federation and Honorary Constructor of Agricultural Construction of Non-Chernozem Area.
Married, has three children. The eldest son graduated from the Academy of Customs and now serves in the North-West Customs. The daughter is successfully finishing secondary school. The youngest son is in the third form.

go back

go top

go home

russian version