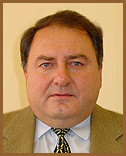 Spiridopulo Vladimir Iljich
Chief Engineer, the North Design Bureau.
Born in 1949, in Leningrad.
Graduated from the Leningrad Shipbuilding Institute, the specialty - mechanical engineer of ship power units.
Since 1972 has been working in the North Design Bureau.
Made a career from a design-engineer, designer of the II and I category, a leading designer, head of a surface ships survivability group, head of general ship systems and fire and explosion protection department to a chief engineer (1993).
A specialist in large surface warships and complex research vessels.
Took part in designing, building, maintenance and commissioning of modern surface warships for Russian and foreign fleets, such as 1144, 1144.2, 1155, 1155.1, 956, 956Ý, 1164, 61ĚÝ, ĎŃ-500, 15, 16A, 25A.
Directed large-scale research works and trials of fire and explosion protection means.
Dealt with designing and building of dry cargo ships, chemical carriers, passenger ships of various purposes and other types of vessels (fishing, environment protection, etc.).
In 1998 studied modern designing with the help of FORAN V-40 system at SENER company, Spain.
Directly participates in implementation of CAD systems and other modern technologies of ship designing.
Awarded with the Order of "Friendship of Nations" (1988), the medal "The 300-year anniversary of the Russian Fleet" (1996).
Married, with a daughter.


go back

go top

go home

russian version