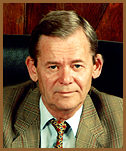 Poliakov Valentin Fedorovich
Born July 5, 1940, in Ustiujna, Novgorodskaya oblast.
In 1962 after military service, started to work in dairy industry in Leningrad as an electrical mechanic, then as a mechanic in an equipment exploitation workshop. In the same year entered and in 1968 successfully graduated from Leningrad electrotechnical college.
In 1965 was appointed chief power engineering specialist at the 1st dairy factory, in 1971 - chief engineer of this factory, and two years later - its director. In 1975 was appointed director of the 4th dairy factory.
Under Poliakov's leadership technological equipment was updated and production of new kinds of dairy products was mastered at the 4th dairy factory. In particular, the factory was the first in Soviet Union to release milk sterilised in aseptic tetra-pack package.
After appointing Poliakov chief engineer of the association he worked out a plan of development of incoming enterprises - dairy factories of Leningradskaya oblast.
This allowed to technically reequip most of the dairy enterprises and to build two new factories in Kingisepp and Luga.
In 1986 after establishing Lengoragroprom (Leningrad city's agricultural industry) Poliakov was appointed director of the 1st dairy factory which in 1992 was transformed into public corporation "Petmol".
V.F. Poliakov continues to reconstruct the plant. In 1993 a yoghurt production workshop was built, in 1995 - sterilised milk production workshop, in 1999 - children food workshop.
In 1996 general meeting of stockholders elected Poliakov director general of public corporation "St. Petersburg's dairy factory # 1 "Petmol".
Poliakov V. F. is an inventor and a scientist, he is Master of technical sciences, a Corresponding Member of St. Petersburg Engineering Academy, a member of St. Petersburg's Academy of frost.
In 1986 awarded with an Honour Sign Order. In 1998 after the President's decree he was given the rank of Honoured worker of food industry of Russian Federation.
The main credo of director general Poliakov is to keep moving on and to introduce new technologies and new equipment.


go back

go top

go home

russian version