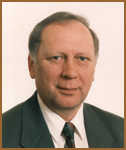 Lombas Svjatoslav Vladimirovich
Director of the State Unitary Enterprise Lengiproinzhproject since 1995, honorary constructor of Russia, member of the City Expert and Consulting Committee of Foundations and Underground Facilities attached to the Administration of St. Petersburg, member of the Tunnel Administration of Russia.
Born on February 5, 1945, in the Ukraine. In 1969 graduated from the Leningrad Institute of Railway Transport Engineers. For two years served as a lieutenant in the separate bridge battalion at the building site of a bridge over Onega River. Worked in project organizations, Aeroproject and Lengiproinzhproject, as an engineer, then chief engineer of projects, chief specialist, chief engineer of the institute and director of the institute.
Wife, Lombas Zinaida Mikhailovna, worked as a leading engineer in project organizations and SUE St. Petersburg Vodokanal.
Daughter, Anna (29), is an engineer, works in SUE St. Petersburg Vodokanal.

go back

go top

go home

russian version