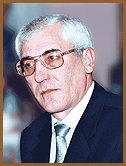 Israylit Nikolay Solomonovich
Director General, Joint-Stock Company Krasny Vyborzhets.
Born in 1951 in the Komi Republic.
Graduated from the Moscow Machinery Institute, the speciality - production engineer. After graduation was sent to work at Kimrsky Machine-Building plant (Kimry town, Kaliningradskaya oblast). In 1978 was moved to Sasovo, Rjasanskaya oblast, where he was the Deputy Director General of the Sasovsky Machine-Building Industrial Merger during 15 years. Headed a number of independent firms. In 1996 was elected the Head of Sasovo Administration and worked at this post till 2000.
Married, with two adult sons.

go back

go top

go home

russian version