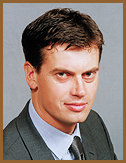 Mikhaylenko Andrey Victorovich
Director general, JSC "Telecominvest".
Andrey Mikhaylenko was born in Alma-Ata in 1964. Graduated from the psychological department of the Leningrad State University in 1986. After military service in Soviet Army he was developing and implementing programs of manager training in Leningrad center of organizational development in 1988-1992.
In 1992-1994 Andrey Mikhaylenko worked as a marketing manager first in "Delta Telecom" cellular company, then in Moscow office of the American telecommunication company "US West Int." At the same time finished a program of general business management at Manchester Business School (Great Britain).
In 1994-2000 headed representative office of "Complus Holding" investing company (Luxembourg).
In 1997 took an MBA degree in International Management Institute of St. Petersburg.
In October 2000 was appointed deputy director general of organizational development in JSC "Telecominvest".
On 29 August, 2001, was appointed director general of JSC "Telecominvest".


go back

go top

go home

russian version