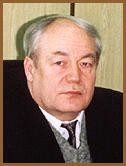 Kuznetsov Leonid Grigorievich
Born in Vologda region in July, 1947. His father was a mechanic, his mother a collective farm worker. There were four children in the family.
L.G. Kuznetsov moved to St. Petersburg in 1962 and graduated from a machine-assembling technical school here. He went through military service at the Baikonur spacecraft-launching site. After returning from the army he worked at Cherepovets Metal Complex as a master for two years.
L.G. Kuznetsov has been working at Compressor Production Association as mechanic, Deputy Shop Chief and Shop Chief since 1971.
Became Chief Engineer in 1988. Elected General Director in 1995.
L.G. Kuznetsov received higher education at the Kalinin Polytechnic Institute's evening department, specializing in machine-building technology. He has later graduated from the Interbank Institute, specializing in crisis enterprise management.
Candidate of technical sciences. His Candidate's thesis was on natural gas fuel systems. Accomplished Machine-builder of Russia. Member of the St. Petersburg Engineering Academy and of the International Academy of Freezing. Awarded the Order of Honor in 1998.
Married. His wife was formerly a worker of Compressor Production Association and currently a housewife. His son is a graduate student at the St. Petersburg University of Low Temperature Technologies.
L.G. Kuznetsov resides in a three-room apartment. He is presently building a country residence in Orekhovo (suburb of St. Petersburg). Leonid Grigorievich has been driving since 1978 and he is a fan of the Russian car industry: he first drove two versions of "Moskvich" and later a "Volga". He always repairs his cars (and his TV's) himself. Kuznetsov currently uses a work service car. He has been fond of sports in his youth (Greco-Roman wrestling and diving).
L.G. Kuznetsov is the present-day General Director of Compressor.


go back

go top

go home

russian version