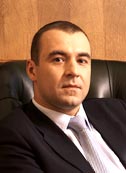 Andriushkevich
Alexander Josifovich
General Director of «Jewelland» Holding Company (www.jewelland.ru).
Was born in 6 June 1970 in Leningrad.
In 1993 he went up to Lensoveta Technological Institute. His distinguishing feature was his aspiration not only to gain knowledge but also to use it practically.  He successfully combined his study with his research work. In 1993 the Russian Committee of Higher Education awarded him a medal «For the Best Student Research Work». In the same year he defended his diploma at the Department of Nuclear Physics and Science of Radiation Materials. He faced post-graduate education and research work. However in the beginning of 90-th there appeared new opportunities for well-educated and enterprising people and he switched into the business.
Since 1993 he started working in the «Bosko» Trading Company, where he mainly dealt with jewelry products delivery into the shops of «North-West Jewelry Trade» Joint- Stock Company.
In 1994 he became a representative of Moscow Jewelry Plants in the Northwest region.
As soon as two years he established his own company named «Jewelland», which specialized in jewelry wholesale trade. In a short space of time the company became one of the largest players in the Northwest market.
Since 1997 there has been launched a retail chain of jewelry shops in St. Petersburg, which by present consists of twenty specialized shops and boutiques.
In 2001 Alexander Andriushkevich decided to arrange his own jewelry production.
Now the «Jewelland» Company is a striking example of a dynamically developing business project. The evidence of that is the expansion of business which manifested in the opening of subsidiaries in Lenoblast (Vyborg and Kirishi) in 2003 and consistent increase of production capacity as well as advanced technologies and staff proficiency, which allow to solve different output issues.
Since 1996 Jewelland has been constantly participating in the Moscow International Jewelry and Watch Exhibition. That is a sign of trust of domestic and international customers. The company successfully develops cooperation with European partners.
Community treated the certain contribution of Alexander Andriushkevich into the development of Russian business according to his merits. Since 2005 he is a representative of the International Trade Chamber in Russia.  Among his awards one can distinguish «The Star of Russian Management» Diploma for the enviable business reputation and the high professionalism in management. In May 2006 he was awarded with the Order of «In the named of Russia» and the golden weapon award with the insertion into the «Book of Honor of Russia».
Contacts:
Wholesale Trade Department:
Address: St. Petersburg, 92 Fontanka River Embankment,
Tel/Fax:: 315-53-15
Retail Trade Department:
Address: St. Petersburg, 1 Moika River Embankment,
Tel/Fax:: +7(812)571-43-32; +7 (812) 571-39-25
---
Creative Achievements of JEWELLAND" Holding.

go back

go top

go home

russian version