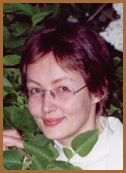 Busaryeva Marina Yuryevna
Marina Yuryevna Busaryeva was born on November 26, 1964.
In 1997 she graduated from the St. Petersburg State Academic Institute of Painting, Sculpture and Architecture of I. E. Repin. Since 1997
Busareva is Union of Painters member.
At a constant level she has been displaying her paintings, graphic and sculpture works at/on:
Seasonal Exhibitions of the Painters Union, since 1997
"Manezh" Central Exhibition Hall, since 1997
International Festival (in Oranienbaum, Petergof, Strelna) -"Sergei Oskolkov and his friends", since 1999
Artistic Exhibitions of "Since the Avant-garde Till Our Days" Festival, since 2001
"Nevograph" Exhibition Graphics Center, since 2000
History-and-Memorial Museum of Smolnyi, in the framework of "St. Petersburg And St. Petersburgers" program, since 2002
United Exhibitions of the "Art-city" gallery, since 2002
The painter took part in:
Thematic exhibitions (on painting techniques) at the Lector Hall of the Russian State Museum. 2000-2002.
"To Your Name", All-Russian Art Exhibition. Moscow. Central House of Painters. 2001.
Animation "Zoo-art" Exhibition. St. Petersburg. Central "Manezh" Exhibition Hall. 2002.
"St. Petersburg Pastel" International Exhibition. St. Petersburg. 2002.
Exhibition devoted to the 70th Anniversary of St. Petersburg Union of Painters. "Manezh". 2002.
The Xth All-Russia Exhibition of Water-Colour in the Kurgan Region, National Crafts Museum. Kurgan. 2002.
Among her personal exhibitions are:
"Tree of Life" (paintings, graphics and sculpture). State Reservation Museum "Oranienbaum". 2000.
"Muses of A Poet" (monotypes, painting and sculpture). Cultural Center, "Gallery on Gorokhovaya". 2001.
"Pandemonium" (a painting). St. Petersburg Union of Painters. 2001-2002.
Her monotype "Encore!" is on exposition in the House of Friendship of Nations, in Tokyo. Japan. Several of her canvasses and graphical lists are in Russian museums as well as in private collections in Russia, England, Belgium, Holland, Germany and U.S.A.
Photo Album of Marina Yuryevna Busaryeva

go back

go top

go home

russian version