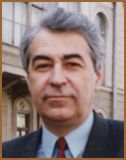 Vladimir L. Voikhonski
Deputy Chairman of German public organization "Friends of St. Petersburg" in Thuringia; correspondent und observer of radio-station "Accent" (Erfurt).
Vladimir Voikhonski spent most of his life in Leningrad - St. Petersburg. He was born in 1940 in Kacha village near Sevastopol, Ukraine in a family of a military pilot. In 1945 the family moved to Leningrad. In 1964 Voikhonski graduated from Leningrad Electrotechnical Institute named after Vladimir Ulyanov /Lenin/ (LETI). Thereafter he completed his post-graduate studies, in 1971 became Candidate of Science (first higher degree in the USSR), and in 1976 acquired the rank of "senior research worker".
Till the end of 1978 Vladimir Voikhonski was doing important research work for the Soviet Navy. After that he moved to the Medical Laboratory Equipment Research Institute growing from a laboratory manager to the head of information and marketing department.
In the period of 1990-1998 he founded and headed several Russian national and St. Petersburg Mass Media: "Interlab-Medica" newspaper (cooperating with more than 100 medical companies around the world), "Petersburg-Europe" newspaper, "Shanson" magazine, "Petersburg-Europe" information-analytical agency; published annual "International Banking Congress in St. Petersburg" (1994). Guest of honour and management consultant at the international annual "Medica" exhibition in Dusseldorf.
Co-founder of "Intermedica" - St. Petersburg publishing house of medical reference books. Initiator, one of the publishers and authors, and scientific editor of technical section of a unique reference book "Medical Laboratory Technologies" (3 books, 140 printer's sheets, 1997-1998) devoted to the 200th anniversary of the Russian Military Medical Academy. More than 60 St Petersburg scientists and engineers, 28 Russian and 15 international medical companies from Europe, USA and Canada participated in the preparation of this medical handbook.
Since autumn 1998 has been living in Germany with his wife and son. Initiator and deputy chairman of German public organization "Friends of St. Petersburg" ("Freunde der Stadt Sankt.Petersburg e.V.", Arnshtadt, Thuringen). Since 2000 - correspondent und observer of Russian radio-journal "Accent" at Erfurt public radio-station with FM / USW broadcasting to 6 biggest cities of Thuringia. Vladimir's journalistic notes are published in the German newspaper " Russian Germany " (Berlin).
Initiator and author of a moving exhibition "St. Petersburg 300 years" ("300 Jahre Sankt Petersburg"). First presentation of this exhibition created by "Friends of St. Petersburg" organization with active participation and under patronage of Nikolay Sirota, General Consul of the RF in Leipzig, took place in Weimar on April 5, 2002. This event was timed to the beginning of the Russian-German forum "Petersburg dialogue" in Weimar and the summit of German and Russian leaders Gerhard Shroeder and Vladimir Putin in this city. Soon after its official opening in Weimar, the exhibition participated in the presentation of St Petersburg anniversary in the RF General Consulate in Bonn. Thereafter the exhibition started its travel across Germany and in the first year successfully visited more than 10 cities in Thuringia and Saxon. In 2003 its route is linked to anniversary celebrations in Berlin, Leipzig, Stuttgart and other cities.

go back

go top

go home

russian version