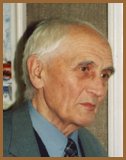 Pekarsky Boris Vitalyevich
B. V. Pekarsky was born in 1921. He is the veteran of World War II. He became to be engaged in military service since January 1942. to be later awarded with 16 state orders and medals. Pekarsky accomplished his military service in the rank of Colonel.
At the present moment B. V. Pekarsky is the Director of the museum of the St. Petersburg State Technological University of Planting Polymers. He started his work with the University in 1978, and in 1987 he became the Director of "The History of the University" museum and of the exhibition halls.
On December 18, 2002 the museum opens the 150th jubilee exhibition. During all these years the exhibition halls of the university served to develop and create both moral and aesthetic taste of the student youth.
The experience has been accumulated and the well-developed skills has been developed to operate with both with students and the university visitors for whom doors of the museum has been always open.
Perceived and created for students and university staff, the halls soon received rather large fame among other educational institutions and public organizations as well as they became popular with common residents of St. Petersburg increasing the University's popularity.
Understanding that contemporary youth is really choosy about various types of cultural heritage, Boris Vitalyevich skillfully mixes the exhibitions of the mature artists and that of the young who make their first steps in art and are the students' contemporaries. As part of general tasks he takes into account development of forgotten or lost kinds of folk lore art.
From the exhibitions billboards which Boris Vitalyevich prepares upon the exhibitions aftermath one may see that from one exhibition to another the work of exhibition halls becomes the active means in spiritual up-bringing, broadening of one's horizons, general culture of the student youth. For Pekarsky the most important thing is to have no indifferent people at the exhibition as well as not to deal with simple consumer attitude towards the exhibits; the attempts are being born to come closer to art and to generalize oneself with skills and peculiar means of expression.
Everything that the Director of the museum does is good. The main quality of Pekarsky as a man is his will to help the talented.
Photo album of Boris Vitalyevich Pekarsky

go back

go top

go home

russian version