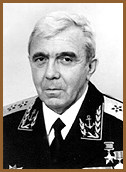 Chernov Evgeny Dmitrievich
Born on March 12, 1930, in Leningrad. Lived in Leningrad during the blockade; since 14 worked in the repair shop of the Baltic Fleet. Being 16 began his studies and service in the Navy.
In 1953, having graduated from the First Baltic Naval College, the lieutenant Chernov was appointed to a diesel-electric submarine. Served in the Underwater Forces of the North Fleet for 33 years: the first 7 years aboard diesel-electric submarines and then during 26 years aboard nuclear submarines.
In 1960-1986 is a chief officer aboard a nuclear missile submarine, commander of a nuclear multipurpose submarine, head of a division staff and a division commander of the same submariners, deputy commodore and commodore of the I Red Banner Flotilla of nuclear submarines.
Took an active part in trials, mastering and combat operation of new conventional and nuclear multipurpose submarines, their application in far regions of the World Ocean, at formerly unreachable depths and under the ice of Central Arctic.
Was the chairman of the trial operation committee of K-278 Komsomolets. Aboard the submarine headed the most important trials with a legendary crew of the Captain Zelensky. Took an external degree in the Naval Academy and finished the Higher Academic Courses in the Academy of the General Staff.
In 1986-1990 - deputy head of the Naval Academy.
After wreckage of the nuclear submarine K-278 on April 7, 1989, headed an investigation committee of causes and circumstances of the catastrophe. The committee, consisting of academy's specialists, made conclusions conflicting with the official version the Naval Head Committee. Spoke in mass media criticising the official position and evaluation of causes and circumstances of the wreckage of Komsomolets. The investigation recommenced in 1991 by the Head Naval Office of Prosecutions came to the same conclusions as the academy's specialists.
In 1990 retired. In 1990-1997 was a research officer in the Research Division of the St. Petersburg Marine Technical University.
In 1996-2000, after arrest of the submariner Captain A.K. Nikitin, actively and publicly defended him.
At present - retired vice-admiral; hero of the USSR; candidate of military sciences.
Since 1992 has been working in the St. Petersburg Public Charity Organization Society of the Submarine Komsomolets Memory, at present is Chairman of the Administration.
The tasks of the Society are the following:
- provision of welfare, social and legal assistance to families of submariners deceased in sea during the cold war, as well as to submariners themselves, who have suffered severe injuries and lost working abilities;
- immortalizing memory of dead submariners, as well as assistance from Society's funds in order to lower accident rate and people's deaths.


go back

go top

go home

russian version