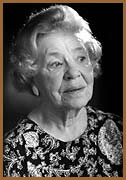 Veysbrem (Prizvan-Sockolova) Maria Alexandrovna
Actress.
Maria Veysbrem (Prizvan-Sockolova) was born in 1909 in Saint-Petersburg.
She acquired the mastery of acting at the Khodotov studio. In 1931 she graduated from the First State Artistic Studio and was accepted for the company of Bolshoi Dramatic Theatre. During the 68 years of constant work at the theatre she has been playing a great deal of tragic and comic parts, which belong to classic and modern repertoire. Among the achievements of the actress are the parts in M.Gorcky, F.Chekhov M.Sholokhov, A.Ostrovsky, V.Panova, A.Tsagarely, L.Razumovskaya plays and many other roles, vividly performed. She has been working so far and a splendid example of this is her part in the last premiere of the theatre, Stringberg's play "Father". Performing the part of a wet-nurse, her subtle acting created a tragic character, full of tenderness and sympathy.
Maria Veysbrem's educational work is of a special interest. Many years she led school amateur performances. She gave the first lessons of dramatic art to A.Freindlikh, O.Volkova and many others.

Interview with Maria Prizvan-Sockolova in "Saint-Petersburg theatrical periodical"


go back

go top

go home

russian version