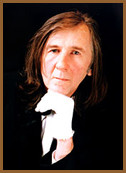 Tomoshevsky Yury Valentinovich
Producer, actor. Honoured art worker of Russia.
Born on August 11, 1956, in Stavropolsky Krai.
In 1978 graduated from the State Institute of Theatrical Art named after Lunacharsky (Moscow), the Actor Faculty.
In 1978-1991 worked as an actor of the Big Dramatic Theatre named after Gorky.
On February 19, 1987, in a small basement on Malaya Morskaya Yury Tomoshevsky, with the assistance of Tovstonogov, opened a theatre-studio Comedian's Refuge realizing the idea of "one actor theatre".
Tomoshevsky's mono-performances attracted many theatre-lovers.
In 1992 the "basement" got the status of a state theatre, and in October 1998 moved to Sadovaya Str., 27.
In May 1998 Tomoshevsky turned out actors from the Academy of Theatrical Art.
In September 1999 Tomoshevsky was awarded the title of "The Person of the Year" (as a part of the city award "Persons of Our City") and won in the nomination "The Producer of the Year".
In 2000 Tomoshevsky ceased direction of his theater, as Comedian's Refuge became a state enterprise. Now Tomoshevsky performs in the theatre as an actor and producer of plays so loved by public.
The theatre has won lots of awards, toured in Poland, Belgium, Sweden, was presented on Austrian, USA, French, German television.


go back

go top

go home

russian version