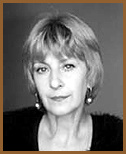 Sokolova Irina Leonidovna
Theatre and cinema actress.
Was born on December, 24, 1940 in Murmansk. In 1963 graduated from Drama Studio attached to the Theatre of Young Spectators. Since then worked in the Theatre of Young Spectators, where she played a number of roles: Nastya ("Once there lived a girl"), Ivan ("Two marples"), Timmy ("Timmy, coeval with mammoth"), Ophelia ("Gamlet"), Cat ("A cat who walked by oneself"), Pulkherya Ivanovna ("Old-fashioned Landlords").
1974 - Honoured actress of Russia.
1980 - Honoured actress of the USSR.
1982 - Laureate of the Stanislavsky's State Award.
1997 - Laureate of the Highist Saint-Petersburg Theatre Award "Gold Soffit".
In 1999 Irina Sokolova together with the director Anatoly Praudin and part of the troupe left the Theatre of Young Spectators. Today she plays at the "Experimental stage" in the theatre "The Baltic house" in the performances "Crocodile" (Crocodile) and "Sisyphus and a stone" (Stone).
Plays in the performances "Eleonora. The last night in Pitsburg" and "Antonio von Elba" of the director Roman Victuk.
Acted in Alexander Sokurov's films: "Degraded" (1980), "Mournful hard-heartedness" (1983-1987), "The days of eclipse" (1988), "Moloch" (1999), "Taurus" (2000).


go back

go top

go home

russian version