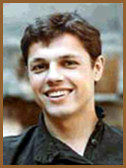 Skljar Igor Borisovich
Actor.
Born on December, 18, 1957 in Kursk, in the family of engineers. Studied at musical school. In 1973 during his holidays Igor Skljar came to Moscow and met there by chance the assistant of the director Vladimir Rogovoj. Thank to this meeting he played one of the main roles in the film "Ship's boy of Northern fleet ". After leaving school he tried to enter several Art high schools in Moscow, but was not accepted. Then he entered Leningrad Institute of Theatre, Music and Cinema. Graduated from the Institute in 1979. Since 1983 has been working as an actor in the Leningrad Small Drama Theatre. Made a debut as a film actor in a musical film "Only in music hall", then acted in a film "Take care of women". Igor Skljar became famouse after the film "We are from jazz " (1984). This film was welcomed by the audience. He played in many other films. And when he sang "Komarovo" - one of the first Igor Nikolavev's hits - he got a real star status. At the same time Igor Skljar worked in the Small Drama Theatre. He played leading parts in "Demons" (F.M. Dostoevskiy), in "Brothers and Sisters" and "House" (F.Abramov), in "The Lord of Flies " (W.Golding), "Mumu" (I.Turgenev).
In the end of 80-s the actor played in many films of various genres. Though in 90-s he appeared on the screen less often, his mastery grew and he got the Award of the Open Russian Film Festival for the role in the film "A Year of Dog" (1994). In 1998 Igor Skljar played the main role in Anna Surikova's film "Children of Monday".


go back

go top

go home

russian version