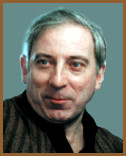 Mamin, Yury Borisivich
Film director.
Born May 8, 1946 in Leningrad.
Trained under Makaryev L.F. at the Leningrad State Institute of Theatre, Music and Cinematography and graduated it.
Worked as a theatrical producer.
Conducted the student's theatre and performed at the Leningrad Transport Engineering Institute.
Mastered his profession at the film studio "Lenfilm".
Worked as an assistant and then as Second producer.
Trained under Ryazanov and graduated from the High Director's School.
Defended his diploma ("I wish you to…" short film).
Five years later his film "The Neptune Holiday" made him very popular.
The comedy "A fountain" (1988) brought him numerous awards and prizes.
Later he filmed a satirical comedy "Whiskers" (1990) and a Russian-French film "Window to Paris" (1993).
Married.

go back

go top

go home

russian version