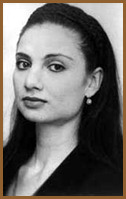 Makhalina, Julia Victorovna
Solo ballet-dancer at the Mariinsky Theatre.
Born June 23, 1968 in Leningrad.
Trained under Vasilyeva M.A. at the Vaganova Leningrad Schoolof Choreography and graduated in 1985.
Since 1986 has been dancing a solo repertoire at the Mariinsky Theatre.
Has danced as Odette-Odilliya (Swan Lake"), Aurora, Lilac Fairy ("Sleeping Beauty"), Medora ("Corsar"), Anna Karenina ("Anna Karenina"), etc.
Danced the main roles in the ballets of Balaanchine and Bezhar among others at the Berlin Theatre "Deutsche Oper" where she has a contract.
Winner of IV International Contest of Ballet-dancers in Paris (1990, Gold medal and Grand-Prix).
Winner of the Lumiere Brothers Prize(1990).

go back

go top

go home

russian version