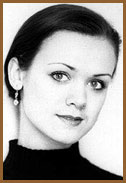 Lopatkina, Ulyana Vyacheslavovna
Solo ballet-dancer at the Mariinsky Theatre.
Born October 23, 1973 in Kerch.
Graduated from the Vaganova Russian Ballet Academy (1991).
Having graduated from the Academy became a ballet-dancer at the Mariinsky Theatre and has been a solo ballet-dancer since 1995.
Recognised as a leading dancer by spectators and critics alike.
Often tours abroad successfully.
Dances as Odett-Odilia in "Swan Lake", as Aurora and Lilac Fairy in "Sleeping Beauty", as Nikkiya in "Bayaderka", as Medora in "Corsar".
Has danced the main roles in "At night", "Symphony in C-Major" and "Goya".

go back

go top

go home

russian version