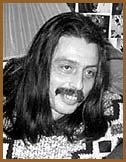 Kozlov Grigory Michajlovich
Theatre director.
Graduated from Leningrad State Institute of Theatre, Music and Cinema named by N.K. Cherkasov in1989.
His first plays, created in 1993 "Sasha Chernyj's concert for piano with actor" (monoperformance of Alexey Devotchenko) and "Moscow. Supplication for a bowl" had success not only in Saint-Petersburg but also in many other towns and countries.
"Moscow. Supplication for a bowl"was called the best debut of the season and was shown on theatre festivals in Kiev and Melhime.
The play "The crime and the punishment" (Dostoevsky) was also called the best play of the season in1994.
Today Grigory Kozlov is one of the leading directors in Saint-Petersburg. He staged 12 plays. "The cherry orchard" by A. Chehov, "Salomeja" by O. Wild, "The sonata of happy city" by O. Wild, "A diary of privincial in Peterburg" by M.Saltykov-Schedrin are among his performances. The last 've got the second award on the First International Festival of monoperfomances.
The play "Postscript of conductor Joganess Kreisler, the author and his beloved Julia" (1998, Alexandrijsky Theatre) has got the greatest theatre award "Gold Soffit" in four nominations: best play, best directing, best actor's duet, best scenary.
The play got the Grand Prix of the International theatre festival "Baltic House" in 1999, and also got the State award of Russia in 2000.


go back

go top

go home

russian version