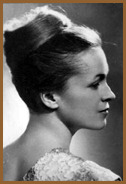 Kolpakova Irina Alexandrovna
Solo ballet-dancer.
Born May 22,1935 in Leningrad .
Graduated from the Leningrad Vaganova School of Choreography and from the Leningrad Rimsky-Korsakov State Conservatory as a balletmaster.
From 1951 1to 1995 worked at the Mariinsky Theatre.
Has danced many parts from the repertoire of world ballet outstandingly.
First to danced the leading parts in some modern ballets.
Balletmaster and tutor at the American Ballet Theatre in New York for some Ballet seasons.
Professor at the Classical Dance Faculty at Vaganova Russian Ballet Academy.
Heroine of Socialist Labour.
National Actress of the USSR (1965).
Awarded the Lenin Order and the Red Banner of Labour.
Winner of III International Dancing Festival (Paris, 1965).
Winner of the USSR state Prize (1980)
Receives the Presidential Pension for her contribution to the development of national art (1996).
Was elected Deputy of USSR Supreme Committee (1974- 1979).
Married with daughter.

go back

go top

go home

russian version