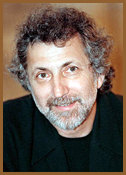 Eifman Boris Yakovlevich
Artistic Administrator of the St.-Petersburg Morden Ballet Theatre.
Born July 22, 1926 in Altay area.
Graduated from the Kishenyov School of Choreography and from the Leningrad Rimsky-Korsakov State Conservatory, Balletmaster Department.
From 1970 worked as a Balletmaster at the Leningrad Vaganova School of Choreography.
In 1977 became the Artistic Administrator at the Leningrad Ballet (now- the St.-Petersburg Ballet Theatre)
Recognized in the world as a creator of a new ballet style, which is a synthesis of classic and modern dancing, of Philosophy and Drama.
Staged more than 40 ballets based on the world classics ("Idiot", "Duel", "Teresa Rahken", "The Master and Margarita").
"Tchhaikovsky", "Don Quixote", "The Brothers Karamazov", "Red Giselle" are among his latest ballets.
Has staged a number of filmed Ballets on TV.
Winner of the "Triumph" Prize, the "Golden Mask" Prize, the "Golden Spotlights" Prize (1996, 1997).
Married with son.

go back

go top

go home

russian version