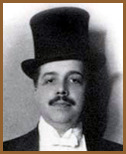 Djagilev Sergey Pavlovich
Russian art and theatrical worker, impresario, organiser of "Russian Seasons" and the troupe "Russian Ballet of Djagilev" in Paris.
Born in 1872 in Perm, Novgorod region, in a family of high-born noblemen.
In 1890 Djagilev enters the law faculty of the St. Petersburg University. Along with university studies was an irregular student in the singing class of the St. Petersburg Conservatory and took lessons of composing.
In 1896 Djagilev graduated from the University.
After a complete failure of his first performance Djagilev refused a composer's career. But having decided to devote himself to the Art, he, together with his friend Benua, founded an elitist journal "Art World" and became its editor (1899). At the same time Djagilev was appointed as a special affairs officer of the Imperial Theatres Administration (till 1901).
In 1905 he organised a large exhibition of Russian Art that showed his expert knowledge in this field.
In 1906 Djagilev moved to France, where he organised annual performances of Russian actors that raised the popularity of Russian Art and are known as "Russian Seasons". At first there were exhibitions of Russian Art, then "Historical Russian Concerts" in the Grand Opera theatre. "Russian Seasons" lasted till 1914 in Paris and London.
In 1909 Djagilev was charged with founding of a Russian ballet in Paris. Djagilev summoned the greatest art workers and in 1911-13 he established the troupe "Russian Ballet of Djagilev", where worked such choreographers as Fokin and Mjasin, composers Debussi,. Ravel, Stravinskiy, designers Bakst, Benua, Picasso, Matiss, ballet dancers of Mariinski and Bolshoy theatres Pavlova, Nizhinskiy, Kseshinskaya, Karsavina.
"Russian Ballet" toured over Europe, the United States and South America with a rising success.
In 1929 Djagilev died moneyless in Venice.


go back

go top

go home

russian version