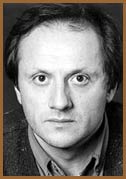 Dityatkovsky Grigory Isaakovich
Born in 1959 in Kiev. Admitted to Leningrad State Institute of Theater, Music and Cinema in 1981. He studied at the Institute's Directing Department under the guidance of Professor A.A. Muzil. In 1986-1995 he has been working in St. Petersburg's Minor Drama Theater. His roles included Lyamshin in "The Devils" (based on Dostoyevsky) and Piggy in "Lord of the Flies". His stagings included "Spiky Miracle" by V. Zhuk and "The Star Boy" by Oscar Wilde. He taught acting in Lev Dodin's workshop.
Grigory Dityatkovsky's stagings in other theaters: "Voicek" by H. Buchner, "White Nights" based on F. Dostoyevsky's and E.T.A. Hoffman's prose, "Marble" by I. Brodsky, "Father" by A. Strindberg, "A Tender Heart's Woe" based on Russian vaudeviles, "Thedra" by J. Racine, "Lost in the Stars".
His foreign stagings include "Toibele and Her Demon" by I. Singer (1994), "Three Sisters" by A. Chekhov (1995) and "Carousel" by A. Schnitzler (1996) in Manchester; "Puppet House" by H. Ibsen (1996) and "Three-Penny Opera" by B. Brecht (1999) in Australia.
He became laureate of "Golden Sophite" award for the play "Marble" in 1998 (best play of the year). Laureate of "Golden Mask" award for "Lost on the Stars" (best play of the year, best directing).
Grigory Dityatkovsky believes the profession of a theater director to be quite paradoxical: one needs to re-tell a story that has been told and read many times and make the things that have already been heard sound interesting again. He believes that culture exists only as long as one generation is able to share the values that were important to the previous generation. It is especially important for a theater artist to take into consideration everything that has been created in the past: a theatrical idea must exist in the context of cultural space.


go back

go top

go home

russian version