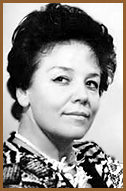 Bogacheva Irina Petrovna
Solo opera-soloist of Mariinsky Theatre (mezzo-soprano).
Born March 2, 1939 in Leningrad into the family of a researcher at the Polytechnical Institute. Having lost her parents (father died in 1947, mother in 1955) she entered a specialised secondary school and started singing in the Palace of Culture chorus.
In 1960 whilst working as a seamstress in a fashion workshop, entered the Leningrad State Rimsky-Korsakov Conservatory.
In 1962 came second place in All-Union Glinka Contest.
In 1967 came first place in an International Contest in Rio de Janeiro.
In the fourth year at Conservatory was taken as a trainee at the Kirov Academic Opera and Ballet Theatre. In 1964 made her stage debut as Polina in "The Queen of Spiders". Since 1965 has been a soloist at this theatre. From 1968 to 1969 trained at the Milan's Theatre "la Scala". Has sung the leading parts in world opera classics in Italy and in Leningrad. A professor. Trains soloists at the St.-Petersburg State Rimsky-Korsakov Conservatory.
Honourary Actress of Russia (1970), National Actress of Russia (1974), National Actress of the USSR (1984). Awarded with the Peoples' Friendship Order.
Married with daughter. Her husband, Gaudasinsky S.L., is a director.


go back

go top

go home

russian version