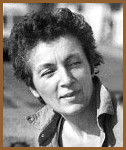 Birulya Irina Mikhaylovna
Born in 1944, in Leningrad.
In 1968 graduated from the Leningrad State Institute of Theatre, Music and Cinematography. Designed scenery for more than a hundred performances, both in Russia and abroad.
Since 1971 - member of the Union of Russian Artists; since 1972 - member of the International Federation of Artists (IFA).
In 1997 - Grand Prix of the competition and exhibition "A Window to the Netherlands".
Main personal exhibitions:
1990 Finland. "The Blue Hall"
1991 Indonesia. The first Soviet-Indonesian Art Exhibition
1991 Italy. "Padova Fiere"
1992 Indonesia. "Taman mini"
1995 Denmark. Ertebaelgen Gallery
1996 Cyprus. Days of Russian Culture on Cyprus
1997 Russia, Moscow. The institute of Art
1999 Russia, St. Petersburg. Palitra Gallery
2000 USA, Boston. The Centre of European Design
Her works are stored in the following collections:
· Russia, St. Petersburg: the State Russian Museum; the State Theatrical Museum named after Ostrovsky, etc.
Russia, Moscow: the State Theatrical Museum named after Bakhrushin; the Parliament Centre.
Indonesia, Jakarta: the National Gallery.
Belgium: Europarliament.
Netherlands: the collection of Prince Oransky; Gallery of L. Zakirowa.
Cyprus: the Municipal Centre.
South Korea: Jean Art Gallery.
USA, Pennsylvania: Buccknell University; The Reading Public Museum; New York: Museum of Contemporary Russian Art.
Armenia: Gougark.
Sweden. Terseus Gallery.
Denmark: Ertebaekgen Gallery.
Private collections in Japan, USA, Germany, etc.
Photo Album of Birulya Irina Mikhaylovna


go back

go top

go home

russian version