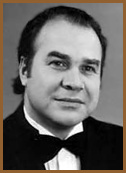 Bezzubenkov, Gennady Ivanovich
Solo opera-soloist of Mariinsky Theatre (bass).
Born April 28, 1949 in Staraya Viteleevka, Ulyanovsk oblast. Graduated from the Leningrad Rimsky-Korsakov State Conservatory.
Since 1989 has been a soloist at the Mariinsky Theatre. Has sung the leading parts of bass repertoire in Russian and foreign operas. He often tours abroad.
Participated in such performances recorded on video and audio disks as "War and Peace", "Iolanta", "The Fiery Angel", "Ruslan and Ludmila", "Sadko".
Honourary Artist of Russia.
Winner of the best St. Petersburg 1996/97 prize "Gold Spotlights" for the best male's vocal.

go back

go top

go home

russian version