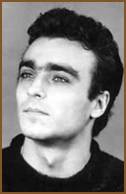 Batalov Anrej Evgenievich
Solo ballet-dancer at the Mariinsky Theatre.
The winner of the international competitions of ballet dancers (Budapest - 1996, Nagoija - 1996, Paris - 1997, Moscow - 1997).
Born in Ijevsk (Udmurtya). Graduated from Vaganova Ballet Academy (class of Prof. Valentin Onoshko).
Joined Mariinsky Theatre in 1994. Became First soloist in 1996.
Repertoire:
La Sylphide (James), The Sleeping Beauty (The Blue Bird), Nutcracker (Prince), Giselle (Peasant's Pas de Deux), The Legend of Love (Jester), La Bayadere (Golden God, Solor), Don Quixote (Basil), Sheherazade (Golden Slave), Le Corsaire (Ali), Pas de Deux Diana & Aktaeon from "Esmeralda", Manon (Lescaut).

go back

go top

go home

russian version