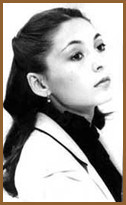 Asylmuratova Altynai Abdurakhimovna
Solo ballet-dancer at the Mariinsky Theatre.
Born January 1, 1961 in Alma-Ata into a family of ballet-dancers.
Graduated from the Voganova Leningrad School of Choreography having trained under Zubovskaya I.B. in 1978.
Since 1978 has been working at the Kirov Academic Opera and Bellet Theatre (Mariinsky) dancing solo repertoire.
Often tours abroad. Has danced the main roles in the ballets "Raymonda" and "Manon" for the Royal Ballet of Great Britain.
Honourary Actress of Russia (1983).
Married to Zaklinsky K., solo ballet-dancer.

go back

go top

go home

russian version