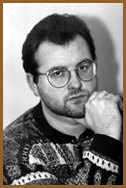 Akimov Eugeny Valerjevich
Tenor, soloist of the Mariinsky Theatre.
Was born in Leningrad in 1967. Studied at the Vocal Faculty of the Petersburg Conservatory named after Rimsky-Korsakov. 1984-1985 - a soloist of the Lenconcert. 1991 - a soloist of the Children's Musical Theatre "Zazerkalje". 1996 - a soloist of Mariinsky Theatre. His main parts are: Bayan ("Ruslan and Ludmila "), the Indian guest ("Sadko"), Count Almaviva ("The Seville barber"), Duke ("Rigoletto"), Lieutenant Bonne ("War and Piece"), Lykov ("Tsar's bride"), Natanael ("Gofmann's Fairy tales"), Rudolph ("Bohemia"), etc. Participated in video and audio records of "Phillips" ("Boris Godunov", "Betrothal in a monastery", "Prince Igor", "Tsar's bride").
The winner of the First International Competition of vocalists (the second award, 1994, Saint- Petersburg) and of the Russian National theatre premium "The Gold Mask - 97".

go back

go top

go home

russian version