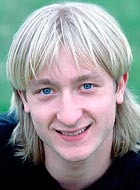 Plushenko Evgeny Viktorovich
Figure skater. In 1997 Evgeny was crowned as a Champion of Junior World Championship. This brought self assuredness to him. He breaks all the rules and now Evgeny is now of the most talented and unsurpassed among the skaters nowadays.
He was born on the 3rd of November 1982 in Volgograd. When Evgeny was 11 ice arena, where he was training was transformed into a market. Knowing the potential of the young man his trainer V. Makoveev took him to Saint Petersburg to meet A. Michin who's students were Olympic champions of 1984 A. Yrmanov.
Evgeny couldn't come here with his family. His mother came to Saint Petersburg a year later. At first Evgeny was living in a communal flat with his couch and then with his mother.
Season of 1997/1998 was decisive for Evgeny. He won a second place in "American skater" and in the Cup of Russia. That brought him a place in the final of the World series of Grandee Pry where he was on the 5th place, being only 16 year old boy. In 1998 Evgeny won the second place in Europe championship. Later bought an apartment in Saint Petersburg.
Evgeny took part in 74 ice skating competitions. Only in 9 out of them Evgei haven't got any award. In the rest he got 47 Gold medals. 14 Silver medals.
The Olympiad in Torino 2006 brought Plushenko a Golden medal the highest award for a sportsmen.
Awards:
Olympic Gold medal 2006
World Champion 2001, 2003, 2004
Europe Champion 2000, 2001, 2003, 2004, 2005
Winner of Grand-Prix 1999-2000, 2000-2001, 2002-2003, 2004-2005
Champion of Russia 1999, 2000, 2001, 2002, 2004, 2005
Winner of the Cup of Russia 2003, 2004
Winner of Marshall's World Cup (USA) 2004
Winner of International Figure Skating Challenge 2003
Olympic Silver medal 2002
Silver medal of the World Championship 1999
Silver medal of the Europe Championship 1998, 1999
Silver medal of the Europe Grand-Prix 2001-2002, 2003-2004
Bronze medal of the World Champion 1998
Photo album of Eugeny Plushenko

go back

go top

go home

russian version