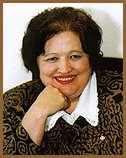 Shipitsyna Ludmila Mikhailovna
Rector of the Institute of Special Pedagogy and Psychology of the International Family and Child Care University named after Raul Wallenberg. Member of the Russian Academy of Education Management, of UNESCO International Personnel Academy, of the New York Academy of Sciences. Doctor of Biology, professor.
Born on March 1, 1947.
After graduating from the Leningrad State University's Department of Higher Neural Activity in 1970 L.M. Shipitsyna worked in the Child and Adolescent Physiology Science Research Institute. She successfully defended her Candidate's thesis in 1974. Since 1979 she has been working as Chief of the laboratory of functional diagnostics methods in the U.S.S.R. Healthcare Ministry's Science Research Institute of Children's Infections. She was simultaneously lecturing on the anatomy, physiology and pathology of speech and hearing organs in the A.I. Herzen State Pedagogical Institute on an hourly pay rate basis. In 1986 she has been elected Chief of the A.I. Herzen Pedagogical Institute's Department of Anatomical and Physiological Foundations of Pathology. In 1989 she became Dean of the Institute's Defectology Department. In 1987 she defended her Doctoral dissertation, in 1989 a Professor's title was granted to her.
L.M. Shipitsyna's research and teaching activities have been very varied. She authored over 250 research essays (30 monographs among these), numerous methodical and educational aids. She has assisted in the preparation of 15 Candidate's and two Doctoral theses.
L.M. Shipitsyna has studied experimentally the principles of functional developmental assymetry of the child's brain, she studied the neurophysiological mechanisms of speech formation and other behavioral processes, of the processes involved in children's learning to read, of the structural and functional peculiarities of memory and emotional states in healthy children, as well as in children with severe hearing defects, with the retardation of mental and psychological development and with deviant behavior.
Over the past 10 years the main directions of L.M. Shipitsyna's research and teaching have been related to the development of conceptual and methodological approaches to the system of special education. This in many ways is tied to her creation of a private educational center, called the International University of Family and Child Care named after Raul Wallenberg. The center incorporates a school for children with special educational and developmental needs, an expert consulting center, a research center, pedagogical workshops, an Open University for parents, a publishing complex, a center for the prevention of drug abuse by children and adolescents, and the Institute of Special Pedagogy and Psychology.
The Institute of Special Pedagogy and Psychology is the University's main structural division, having a state license to conduct educational activity in the sphere of higher education and a Certificate of state accreditation, issued by the Russian Federation's Ministry of Education.
The Institute of Special Pedagogy and Psychology is Russia's first private higher school specializing in the preparation of personnel for the system of special institutions and social service organizations, such as specialized correctional education institutions, social rehabilitation centers, children's homes and shelters, etc. The demand for highly-qualified personnel and for scientific research in this area has growth as a result of radical changes in the state's policy regarding the support of children and adults with health limitations.
Over 2,000 students from St. Petersburg, Bryansk, Vyborg, Zelenograd, Kaliningrad, Moscow, Orenburg, Petrozavodsk, Severodvinsk, Tyumen, Togliatti, Novy Urengoi and Chelyabinsk are currently attending the institute.
The new school's image is marked by openness and a wide range of social contacts. The institute has participated in federal and international scholarly programs. Many research projects conducted in the institute are carried out by order of the Russian Federation's Education Ministry, of the Ministry of Labor and Social Protection, of regional educational organizations. The institute successfully carries out research as a part of the Presidential "Children of Russia" program, of topical programs such as "Handicapped Children", "Orphan Children", "Children of Chernobyl", etc.
It conducts international cooperation projects in various educational institutions of the U.S., Great Britain, Germany, Holland, Belgium, Finland, Sweden, Denmark and of other countries. These ties allow the university's students to attend lectures and take advantage of textbooks written by leading Western specialists.
The institute develops and publishes a variety of textbooks and educational aids. The quality of its scholarly output is re-affirmed by the demand for it in various regions of Russia. Texts written by the institute's workers have been translated into English, German and Dutch and published abroad.
L.M. Shipitsyna's credo is that a student (who in the future will be a psychologist or a teacher) must work with a specific child starting from day one. L.M. Shipitsyna is a supporter of a kind and understanding treatment of a child with developmental problems, both in theory and in practice. The institute has performed a unique experiment by creating a group for deaf children with a specialization in special psychology. These children are taught for free by best lecturers and professors. Students with vision defects and with other handicaps attend the institute as well.
The Institute of Special Pedagogy and Psychology does not aim at replacing public education. Instead, it specifically helps the country in the preparation of qualified specialists. The institute's Rector is proud of the fact that this new form of education allows the institute to support St. Petersburg's invaluable teaching potential. The institute has already proven its important social function: over 3,000 of its alumni are successfully working in various parts of the country.
The institute's lecturers, united into an effective creative team with a common attitude towards work, consider the institute to be their home.
The school is characterized by its special atmosphere of warmth, kindness, intelligence and beneficial competitiveness of ideas. Its students and professors think that this is an achievement of their Rector, a man with a wide range of thought, an excellent organizer of research, a kind and caring person.
In 1998 L.M. Shipitsyna has been awarded the Order of Friendship by decree of the Russian Federation's President. She has also received a personalized medal and a diploma from Cambridge University, proclaiming her to be one of 2,000 greatest people of the 20th century's.


go back

go top

go home

russian version