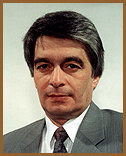 Pisarev Sergey Borisovich
Director of Federal "Russian Institute of Radionavigation and Time" (RIRT).
Born on October 29, 1953 in Jaroslav region.
In 1970 he entered The Leningrad Institute of Mechanics and Optics (IFMO) majoring in Computer Science. While studying worked as a builder.
Graduating the institute in 1976 worked in computer laboratory of IFMO. Then Sergey worked in The Leningrad Marine Research Institute. There he was developing automotive information system of sea-ports controlling.
In 1981 he entered RIRT as a senior engineer. Working there he took part in impulse-phase radionavigation in-service testing of longwaves that is of big importance for civil and military sectors of economy.
In 1994 Pisarev has been appointed Deputy General Constructor for radionavigation systems research development.
Sergey developed a conception for the new age impulse and phase radionavigation systems using the latest researches of space and radionavigation scientists.
In his work he uses the latest methods of general theory of nonlinear radionavigation, theory and concepts of impulse-phase radionavigation.
In 2000 he defended his candidate dissertation.
In 1998 Pisarev became a director of RIRT. Equipment designed by RIRT allows to determine current time and location. It is widely used by military and civil organizations in the CIS and all around the world. High quality, reliability and other products compliance are RIRT's products distinctive features. In a recent time Sergey Pisarev improved institute's effectiveness, paid attention to budget and financial issues. He sat close contacts with clients, organizations, local authorities and research centers. Sergey Pisarev attracted investments for the production of new compact base receiver K-161. Also new radionavigation receiver will be produced there. It helps to use satellite radionavigation systems GLONASS(Russia) and GPS(USA). This mode can also be used for land, sea and telecommunication systems synchronization .
Married with two children. Hobbies: sport fishing.



Federal "Russian Institute of Radionavigation and Time" (RIRT)
2 Rastrelli square, Saint-Petersburg, 123124, Russia
Phone: (812) 274-14-88
Fax: (812) 273-10-33
E-mail: office@rirt.ru
URL: www.rirt.ru


go back

go top

go home

russian version