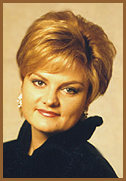 Smolina Irina Aleksandrovna
Journalist, Presenter of the Petersburg Television and Radio Company.
Born in Leningrad, in 1964.
Having graduated from the Journalism Faculty of the Leningrad State University (1986), joined the Leningrad Television and Radio Committee. Worked as a reporter, editor, news presenter ("Neva's Wave", "St. Petersburg's Panorama"). In 1992 became a presenter of the television station "Fact", which was later transformed into a news program "Inform-TV".
Recognised to be the best news presenter of the year (1996, 1998).
In 1993 Irina Smolina presented her own program "Cultural Chronicles" at the first time. The program became popular almost at once, and is still rated high, being included into five most favourite St. Petersburg programs. In 1996 it was considered the best in the "Informational-Entertaining Program" nomination of the "Golden Pen" competition and was awarded with a laureate's diploma. The program has also won in other competitions.
Since 1992 Irina Smolina has been presenting different news programs. In 1998-1999 she initiated a series of programs about fashion - "St. Petersburg Silhouette".
Irina Smolina is one of St. Petersburg comperes. She presents big festivals on the stages of such city halls as Oktyabrsky, Yubileyny, Carnaval, Vyborsky, etc., as well as mass shows on Dvortsovaya Square, Nevsky Prospect.
Married, has a son.


go back

go top

go home

russian version