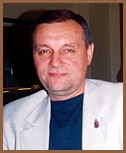 Sazanov Aleksandr Petrovich
Professional journalist, publisher, social activist.
A.P. Sazanov was born on October 19, 1952 in Leningrad. In 1976 he graduated from the Faculty of Journalism at Leningrad State University. He worked as a journalist all of his conscious life, beginning as a junior correspondent of "Pionerskaya Pravda" adolescents' newspaper. In 1988 he became laureate of Leningrad Journalists' Association's award. He then worked for three years as a TASS correspondent in Latvia. Participated in the creation of 24 new periodicals in St. Petersburg at various times, acting as organizer, founder, chief editor and publisher. These periodicals included "Nevskoye Vremya" (1990), "Requiem" (first Russian magazine on ritual and spirituality, 1995), "St. Petersburg School" magazine (1998) and "Vasileostrovsky Line" (municipal newspaper, 1999). A.P. Sazanov is the founder and Director of "Roza Mira" editorial and publishing firm that has issued over 70 book titles since 1992, as well as thousands of copies of various polygraphics products. In 1990-1993 he represented the working team of St. Petersburg's Turbine Blade Factory in the City Council's 21st assembly, working in the Commission on Mass Media and Freedom of the Press. He was charged by the Commission and by Mayor A. Sobchak personally to create a new sociopolitical newspaper in the city from scratch, which led to the foundation of "Nevskoye Vremya". He then worked in the city's Mandate Commission and Commission on Legislation.
A.P. Sazanov has taken upon himself a considerable number of social responsibilities. Among these is his duties of Press-secretary of the Association of St. Petersburg's and Leningrad Region's Officers in Reserve, of Councillor at "Golden Book of St. Petersburg" organization, of a member of "The Russian Invalid" newspaper's editorial team, of President of St. Petersburg's Latvia Center, of President of "Vasilievsky Island" social organization, of a member of St. Petersburg's German Culture and Reconciliation Center's administrative board.
A.P. Sazanov is the author of dozens of articles in defense of civil rights and local self-government, on issues of history and modernity in the area of burial rites and rituals. He conducts a course on "Basics of Burial Culture" in the St. Petersburg branch of Moscow State University of Service.
Married, has two sons: Nikita (12) and Anton (5). His wife Elena Vitalievna works in St. Petersburg State University's Library.


go back

go top

go home

russian version