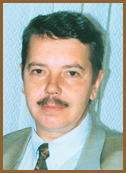 Vakhmistrov Aleksander Ivanovich
Born April 17, 1954 in the city of Stavropol.
In 1981 he has graduated from the Leningrad Institute of Railroad Transportation Engineering, majoring in Civil and Industrial Construction.
From 1975 to 1978 he has been a construction engineer of the 3rd category at the Indicator special construction bureau.
In 1979 he has been in charge of a section of the Magadanselstroy Construction Complex #3.
From 1979 to 1985 he has been a carpenter of the 4th category, heading a section of Construction Board #267 of Glavzapstroy's Complex's #36.
From 1985 to 1987 he has been the Chief of Glavzapstroy's Construction Board #339.
From 1987 to 1988 he has been Secretary of Glavzapstroy's Leningrad Construction and Mounting Association's Party Committee in Leningrad's Nevsky district.
1988 - 1989 - Vakhmistrov is production director of the Lentek joint Soviet-Finnish engineering firm.
1989 - 1994 - General Director of FILCO joint Soviet-Finnish enterprise.
1994 - in charge of the construction of JSC "Kontsern OLBI"'s branch in St. Petersburg.
1994 - 1996 - director of the Construction Department's "Investment Administration" state organization.
1996 - 2000 - General Director of the Centre on Bank Credits state organization.
On May 26, 2000 Vakhmistrov has been appointed Chairman of St. Petersburg administration's Committee on Construction.
Accomplished Construction Worker of the Russian Federation.


go back

go top

go home

russian version