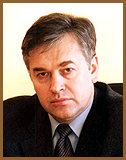 Smirnov Alexander Alexandrovich
Vice Governor of St. Petersburg.
Born on April 26, 1958 in the town of Kokand in Uzbekistan. Graduated from Ryazan Technical School of Electronic Equipment in 1977, then from the Leningrad Frunze Naval College with a degree in Hydrography and Engineering in 1982.
In 1982-1993 - an officer in the Armed Forces of the USSR.
In 1994-1996 - an expert and deputy director at the State Institute of Privatization Issues in St. Petersburg.
In 1996-1998 - General Director of the Baltic Agro-industrial Company.
In 1998-2000 - senior lecturer at the State Academy of Engineering and Economics.
In 1999 - deputy chairman of the Committee for Management of City Property.
In August 1999 appointed Head of the Housing Maintenance Committee.
In June, 2000 A.A. Smirnov has been appointed Vice Governor of St. Petersburg. Vice Governor Smirnov is in charge of three areas of the City Administration's activities: housing (Committee on Housing Maintenance), city planning (Committee on City Planning and Road Construction) and energetics (Committee on Energetics and Engineering Maintenance).
Master of Economic Sciences.


go back

go top

go home

russian version