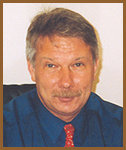 Puchkov Aleksander Mikhailovich
Born in March, 1957 in Leningrad.
After an unsuccessful attempt to get admitted to the Leningrad State University's Philological Faculty he worked at the Russian Academy of Sciences' library.
He served in the military in the North of Russia, in the Northern Navy's marine units. During that time period he also participated in military operations in Africa (Guinea, Benin, Angola).
After returning from the military, Aleksander Mikhailovich was admitted to the Philological Faculty's Germanic Department and graduated from it in 1982. He has afterwards worked in Iraq.
A.M. Puchkov has been working in customs organizations since 1985. He has headed the Pulkovo Customs Board. He became Chief of the Baltic Customs Board and General Major of Customs Service in October, 1998.
Married with two children: a 20-year-old daughter and a 14-year-old son.
Mr. Puchkov lives on the Vasilievsky Island, with his apartment's windows facing the Gulf, just like the windows of the city's Customs building. He loves to read historical novels.
A.M. Puckov collects customs insignia and ties. He attends theatre and classical music concerts regularly. He believes that spending time with his friends is the greatest pleasure on Earth.
A.M. Puchkov is the present-day Chief of the Baltic Customs Board.


go back

go top

go home

russian version