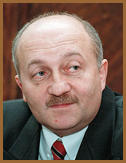 Kagan Anatoly Vladimirovich
Vice-governor of St. Petersburg.
Head of the Public Health Committee.
Born on November 19, 1950.
Graduated from the Pediatrics Department of the Smolensk State Medical Institute in 1973, worked as a pediatric surgeon in the town of Viaz'ma for the subsequent three years.
From 1976 on worked in various outpatient clinics and hospitals of Leningrad as a pediatric surgeon. In 1991 became cheif physician of the City Children's Hospital.
Appointed to the post of head of the Public Health Committee in January 2000.
Anatoly Vladimirovich is an Honored Doctor of the Russian Federation. In the beginning of 2000 he defended his Master's Thesis.
Married, has a daughter.

go back

go top

go home

russian version