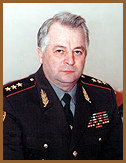 Bobryshev, Valentin Sergeevich
Commander of the Leningrad Military District Troops.
Born March 5, 1945 in Stavropol kray into a family of a military man. Studied at the Suvorov Military School. Graduated from the Leningrad High Commanding Military School (1966), from the Frunze Military Academy and from the USSR Academy of the Military Forces Head Quarters (1983).
Served in the Leningrad Military District Troops. From 1964 to 1974 held the positions from platoon commander to battalion commander.
Having graduated from the Frunze Academy, commanded a regiment in the Far East and was the Chief of the division H.Q.
After graduating from the Military Academy of H.Q., commanded the division in the South Group Troops. Served as Deputy Commander of the 14th Army in Tiraspol then as Chief of its H.Q. and as Commander of the 1st Army in Kiev Military District. Later, being Chief of the Northwest Troops H.Q., worked on the withdrawal Of Russian Troops from the Baltic countries. Within one year headed the CIS Peacekeeping Forces in Tadjikistan. In 1995 was appointed Chief H.Q. of the Leningrad Military District Troops. Since 1997 has been The Commander.
General-colonel.
Awarded a number of states awards.
Married, with daughter and son.


go back

go top

go home

russian version