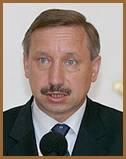 Beglov Alexander Dmitrievich
The vice-governor of St. Petersburg - the chancellery chief of the St. Petersburg Administration.
He was born on May 19, 1956 in Baku. In 1983 he graduated from the Leningrad engineering construction institute with specialty in industrial and civil construction. He is candidate of technical sciences. He worked at managing posts in the construction organizations of St. Petersburg. From 1986 till 1989 he was the deputy of the department of construction and the construction materials' industry of Lensovet's Ispolkom. From 1989 till 1990 he is the director of the sector of social-economic department the Communist party Obkom. From 1991 till 1997 he is principal engineer of "Melazel", JV. From 1997 till 1999 he is engaged in the teacher's job of the architectural construction university. From 1999 till his appointment on the post of vice-governor - chief of the St. Petersburg Administration Chancellery he worked as Head of territorial administration St. Petersburg's Resort administrative region.
Since June 16 2003 acts as a governor of St. Petersburg till the new elections.

go back

go top

go home

russian version