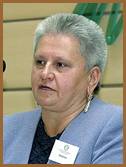 Batozhok Natalya Igorevna
Head of the Committee of Preparation and Implementation of the Tricentennial Celebration Of Saint-Petersburg.
Born on January 19, 1950 in Leningrad. Graduated from Leningrad State University (Faculty of Philology, Department of Mathematical Linguistics). Has taught Old Slavic in Poland and the United States. For many years was the Dean of the Philological Faculty of the Herzen State Pedagogical University. Member of the expert advisory board of the Higher Attestation Commission of the Russian Philological Federation.
Head of the Department of the uninterrupted philological education and educational management of the Saint-Petersburg State University (as a volunteer). Also organized and currently heads the Association of non-public schools. One of the schools - that of the Herzen State Pedagogical University - was awarded the title of "Best Non-Public School", and Natalia Batozhok herself was rewarded with a badge "For Humanization of Schools".
In her free time she likes to play the piano and travel.
Her son, Igor Pozdniakov, holds a master's degree in history and works as a research associate of the Institute of History of the Russian State Academy of Sciences.


go back

go top

go home

russian version