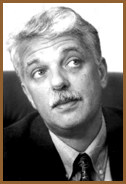 Zonin Andrei Sergeyevich
Director of Cultural Programs Institute.
Born March 8, 1952 in Leningrad. Graduated from Leningrad State University's Philological Faculty and from the Department of Science and Technology Information of Leningrad State Culture Institute's (LSCI) Library Faculty.
After finishing his studies, Andrei Zonin worked as research fellow at LSCI's Research Sector. In 1984 he has completed his Candidate's thesis. He has taught for 20 years in N.K. Krupskaya Leningrad Institute of Culture. Since 1992 he has taken active participation in the creation of the Cultural Programs Institute by the City Administration's Committee on Culture and Tourism. He was appointed the Institute's Director in July, 1993.
Member of St. Petersburg Scientists' Association, member of St. Petersburg Librarian Society's Administrative Board, Vice President of the Russian Federation of Library Associations (1990). Participated in the creation of the Strategic Plan of the Development of St. Petersburg, in the development of the City Administration's cultural policies and of its program for the development of cultural tourism in the region (after 1996), in the preparation of the investment strategy for the reconstruction of St. Petersburg's city center (1998-99), etc.
Published over 30 scientific works in Russian and English. Makes regular presentations at international conferences and symposiums. Chairman of state testing commissions at St. Petersburg University of Economics and Finance (1999) and at St. Petersburg Academy of Theater Arts (1999-2000). Member of "St. Petersburg Library School" magazine's editorial team.
The Cultural Programs Institute is involved in the development and realization of city-wide, regional, federal and international programs. It carries out the functions of a regional information center in the sphere of arts and culture, aiming to advance the position of St. Petersburg at the world's market of cultural and tourist services (more information may be found at http://www.300.spb.ru).


go back

go top

go home

russian version