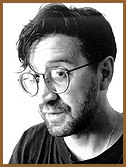 Shevchuk Yuri Yulianovich
Musician, leader of "DDT" rock-band.
Was born on May, 16, 1957 in the village Yagodnoe, Magadan region. His farther was a millitary man, and his family moved at first to the Caucasus, then to Ufa, the capital of Bashkiria.
Graduated from the Art-Graphic Department of the Ufa Pedagogical Institute. Then worked in village schools.
The history of "DDT" began in 1980, when Rustam Asanbaev, Gennady Rodin, Vladimir Sigachev, Rustem Karimov and Yuri Shevchuk got acquainted. The first album "Pig on a rainbow" (1982) spread quickly to the country and made the name of the group known far outside Bashkiria. In spring 1982 "DDT" took part in the contest "Golden Tuning Fork" and became its winner. The second album of "DDT" called "Compromise" was recorded in 1983. A year later the album "Periphery" was released in Ufa, after that "DDT" suffered persecutions from the local government and had to leave Ufa. In a year Yury Shevchuk moved to Leningrad where in January, 1987 the new cast of "DDT" participated in a concert of the rock-club. In spring 1987 "DDT" presented its program at the V Leningrad Rock-Festival and had great success. Next summer the group's success at the VI Festival was the same, "DDT" gave a number of concerts, and the "Melody" firm released a record of the best songs of "DDT" "I've got this role". Then, from the beginning of 1990-s, the group reduced its concert activity, showed to public only carefully prepared programs ("Black Hound Petersburg", "That is all …") and released regularly professional albums ("Actress spring", "Crawler", "Love", "World number zero"). On May, 27, 1993 on birthday of Saint-Petersburg "DDT" gave an open concert on Dvortsovaya Ploschad on which more than a hundred thousand people was present. In the same summer the group took part in the rock-festival "White Nights of Saint-Petersburg " in Berlin, and in autumn was awarded with the prestigious musical premium "Ovatsia" as "The Best rock band of the year", and Jury Shevchuk received a title of "The Best rock-singer of the year". "DDT" acted in documentaries "I 've got this role" (A. Melnichenko, 1983), "Rock" (A. Uchitel, 1987), "Game with the a stranger" (P.Soldatenkov, 1988) and "Limita" (E. Golovnya, 1989). Yury Shevchuk played a leading role in Sergey Selianov's feature film "Spirits' day".
In 2000 a new album "August snowstorm" was released.


go back

go top

go home

russian version