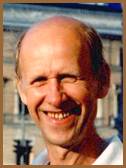 Sapozhnikov Vladimir Alekseyevich
Was born in 1945 in Novosibirsk. His composing skills were shaped according to the Leningrad Composers' School tradition. In the city of Leningrad Vladimir Sapozhnikov graduated from the Musical College where his studied in the class of V.P. Chistyakov. Later Aleksei graduated from the Conservatory where he studied in S.M. Slonimsky's composition class.
Today V.A. Sapozhnikov is easily working in various genres thus revealing his novator approach and modern treatment of the common compositional forms. Among his compositions for theatre which comprise a opera and two ballets, there is one original performance in style of "Buffoons" titled -"Fools Holiday". The composer's proclivity towards big artistic generalizations defines his interest for symphony music. V. Sapozhnikov is author of six symphonies; in his creations portfolio one can see oratoria compositions of large scope as well as poetical, chamber cantatas and "a cappella" choirs, which has been successfully performed by a number of St. Petersburg choir ensembles.
Versatile is chamber field of V. Sapozhnikov work, represented by interesting forte-piano opuses and ensemble compositions, vocal cycles. By addressing towards music and text, the composer demonstrates his grand erudition and fine taste in choice of verses of from poets of various epochs and nations.
The composer's fidelity to traditions, though with his own refraction of them, his knowledge of previous epochs' music together with what was learned in the professor Slonimsky composition class is the author's foundation towards high professionalism. These qualities allowed his owner to lead his own way in art, to search for and find the persuading colors for sounds. The composer is inclined to give uncommon timbre combinations in his works. That allowed also to progress with the material, to build logical on accomplishment compositions.
The master's main works:
Compositions for the Musical Theatre
Compositions for orchestra (symphonies, concerts, a concert-burlesque, "Firefight team Number 5" for a solo forte-piano and a string orchestra)
Vocal-and-symphonies' compositions ("The circle of life"; a miracle-play for solists, a mixed choir and an orchestra; "I came to this world to see the Sun" - cantata)
The Music for the orchestra of folk instruments
Choir opuses (on texts of O. Hayam, B. Shefner, A. Voznesensky, A. Rembau, V. Briusov, V. Khlebnikov, and others)
Chamber-instrumental compositions ("Fanfaronada"- a suite for forte-piano, "Pantosmusica"- a suite for forte-piano, "Pentadrama"- for oboe and string quartet; "Triplet"- kitch music for forte-piano in five hands)
Chamber-instrumental compositions (texts of W. Shakespeare, M. Tsvetaeva, A. Voznesensky, E. Yefimovsky)
Photo Album of Vladimir Alekseyevich Sapozhnikov

go back

go top

go home

russian version