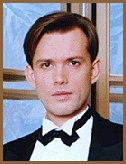 Pogudin Oleg Evgenievich
Oleg Podugin was born in Leningrad on December 22, 1968. In 1979-82 he was a soloist of Leningrad Radio and Television's Children's Choir. Recordings of that time are still aired on St. Petersburg radio, bringing joy to listeners with the singer's clear voice and quality of performer's technique.
From 1985 till 1990 Oleg attended Leningrad's State Theater, Music and Cinema Institute named after N.K. Cherkasov. He graduated from the institute with an honors diploma.
From 1990 till 1993 he was an actor at St. Petersburg's Major Academic Drama Theater named after Gorky.
In 1991 his first large disc, titled "Star of Love" was issued.
Well-known composer V. Gavrilin wrote at that time: "I was listening to Oleg and crying, crying of happiness that another unmistakable talent had been born in Russia. May God grant him a happy path in his life, while people's love is already awaitig him."
Since 1993 Pogudin conducts active concert work in Russia and abroad. Tickets to all his concerts are always sold out.
The artist constantly works in regional radio and TV studios.
Ten musical films with his participation were on RTR TV channel over the years 1993 through 1996. Six of them were specially dedicated to his performances.
Over five hundred songs and romances are a part of the artist's repertory. His main concert programs are as follows: vintage Russian city romance, Classical Russian romance, folk songs, songs of war; songs, romances and vocal pieces by foreign composers.
Monographic programs dedicated to the memory of Russia's well-known popular performers, such as A. Vertinsky, P. Leschenko and B. Okujava occupy a special place in the artist's work.
The artist's special attention has lately been concentrated on work on a series of concerts and recordings called "To the Russian Genius". The aim of this work is to revive the works in the chamber vocal genre written to the lyrics of 19th through eraly 20th century Russian poets on stage and in record. Continuous cooperation with Russia's literature museums, such as the State Reserve Museum of A.S. Pushkin in Mikhailovskoye, the Museum Mansion of L.N. Tolstoi in Yasnaya Polyana, Khmelita Museum Mansion of A.S. Griboyedov, and others, is carried out as a part of this program. "Silver voice of Russia" is a name that has become strongly associated with Oleg Pogudin.
The artist has been awarded "Russia's Angelic Voice" title and "Trumpeting Angel" prize in 1997.
In 1999 the artist became laureate of Tsarskoye Selo artistic award "For understanding the soul of the Russian romance".

go back

go top

go home

russian version