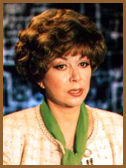 Pyekha Edita Stanislavovna
Singer.
Was born on July, 31, 1937 in Nual-su-Lanse, France, 300 km from Paris (Pas de Calais). Her father Pyekha Stanislav was a miner. Her husband Polyakov Vladimir Petrovich is a journalist, a political scientist, a composer. Her daughter Bronevitskaya Ilona Alexandrovna is a singer, variety actress. Has two grandchildren: Pyekha Stanislav and Bystrova Erica.
Graduated from the Leningrad State University, psychological and philosophical faculty. For the first time she appeared on stage with "Friendship" ensemble with a comic polish song "The Red Bus" at a New Year party (1955/56). Next day all artistic Leningrad started talking about the talented girl, and Edita became a soloist of the ensemble. She had been working in it since 1976. "Friendship" gave concerts in France, Poland, Czechoslovakia, Germany, Finland, GDR, Mongolia, Austria. In 1976 Edita organized her own ensemble. Grigory Klejmits became the musical manager of it.
Edita Pyekha sang the first Soviet twists and shakes, she was the first to talk to public at concerts. In the repertoir of the singer there were songs of well-known composers O.Feltsman, M.Fradkin, A. Petrov, G.Portnov, A. Pahmutova.
Her first disks were released in 1956. Since then more than ten giant-disks were released by "Melody" firm, they included such songs as "The Big Sky", "City of childhood", "The Wreath of Danube", "Be like this", "Our neighbour", "Birches' land" and others, and also three CDs were released ("I love you", "Pyekha, familiar and unfamiliar" and "To those who likes Pyekha"). The total number of disks reached dozens of millions copies, for this Pyekha was awarded "The Nephrite disk" in Cannes.
Pyekha made a great number of concert-tours, she represented Soviet and Russian variety songs in more than 20 countries of the world. She was the first Soviet singer to give concerts in Bolivia and Honduras, and in Afghanistan after revolution of 1978. She was the first soviet singer to sing in the Karnegy-hall in New York. Twice she appeared on stage of "Olympia" in Paris. She appeared on a stage of the State Academic Bolshoi Theatre, and also sang for spacemen during the sessions of direct orbital connection and for reindeer breeders of Chukotka, gave concerts at factories, and in hospitals of Afghanistan. Even lorries were used as a stage - in the cities of Peru and Armenia destroyed by the earthquake, in Chernobyl and in Afghanistan.
She participated in the cultural program of Olympic games in Munich and Moscow.
Edita Pyekha was the first to give concerts devoted to anniversaries of creative activity.
She was the initiator of creating and establishing of a monument to children killed during the Great Patriotic War in Shatki (Nizhegorodskaya region). Since 1987 Edita Pyekha has been constantly rendering the charitable help to orphan-asylum ?53 in Saint Petersburg.
Edita Pyecha is the National artist of the USSR (1988), Leningrad Komsomol award laureate, the prize-winner of the VI World Youth Festival in Moscow (1957, a gold medal), of the IX World Youth Festival in Sofia (1968, a gold medal), of the All-Russia Competition of variety actors, of the International Variety Competition in Berlin, the winner of the Russian national premium "Ovation" in a nomination "The living legend " (1996). In autumn 1998 the ceremony of opening of Pyekha's Star on the Stars' Square in Moscow took place.
The singer has a number of awards and titles of the USSR, Russia, of the other countries (the Order of the Labour Red Banner and the Order of Peoples' Friendship are among them)
She is the honourable citizen of Russia, and of some Russian and foreign cities.
She played in a number of films.
Lives in Saint Petersburg.


go back

go top

go home

russian version