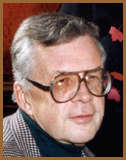 Petrov Andrei
Andrei Petrov is one of the famous and most frequently performed composers of Russia. He is also "An Honored citizen of St. Petersburg". A minor planet has his name.
Andrei Petrov was born in Leningrad and studied in the State Conservatory, in the Orest Yevlakhov composition class. Andrei got interested in developing Russian classical music traditions, in spirit close to his contemporary -- composer Dmitry Shostakovich. The latter provided him with warm commendations in regard to Andrei's creative skills and estimated Petrov "to be of bright personality as well as of fairly fruitful composing potential".
Andrei Petrov is the author of a number of operas and ballets, of symphony creations and instrumental concerts, he writes music to films, theatre performances, songs.
His music for "Creation of the World" ballet is very popular. Mikhail Baryshnikov, Russian ballet star, performed in it. This Russian ballet gained fame in many European countries and in America. His opera "Peter the Grand" focusing on legendary Russian tzar -- reformist and St. Petersburg founder -- was a success on Russian stage.
Anderi Petrov's symphonies have been performed by many and many world-known conductors -- among them are Yuri Temirkanov, Yevgeny Svetlanov, Alexandr Dmitriyev, Yevgeny Kolobov, Gunter Shuler (USA), Kozuhira Monzumi (Japan).
Petrov worked hard for cinema industry, in true cooperation with such famous producers as E. Ryazanov, G. Danelia, A. German, composing music to more than 80 movies of which the ones that became part of Russian history are "I am wandering about Moscow", "Step off the Car", "Autumn Maraphone", "Administrative Romance", "Go for a Car, Khrustalev!", "A Fatal Romance". He also gave music for "A Bluebird", American movie with Lize Taylor. Andrei Petrov is awarded a number of cinema prizes - "Nike", "Golden Lamb" and others.
Petrov's recent work comprises music for "Master and Margaret" ballet of Boris Eifman, a forte-piano concert for American pianist Derek Khan, orchestra variations on Musorgsky. Among the master's recent works are as well 2 symphonies and 1 string quartet of protestants hymns - all had their debuts in South Korea. The latest 5-years link the composer with the Jugin O'Nill international theatre center (USA). The Broadway group of this center plans to stage "Captain's Daughter" (a novel of Pushkin, the greatest poet of Russia), made a musical by Andrei Petrov.
In general, Petrov's music is performed by Russian as well as foreign big bands and solists all over the world : in Poland, Chec Republic, Bulgaria, USA, UK, France, Germany, S. Korea, Japan.
One can distinguish Andrei Petrov's music composition by both its light melodies and emotional strength. Beyond, the composer is tactfully using the methods of modern composition writing, what can be clearly felt in his work for orchestra. Not once critics underlined Petrov's rich fantasy and colors splendor in his symphonic scores.
Since 1964 A. P. Petrov has been chairman of the St. Petersburg Union of Composers. In above, he is the initiator and general director of "St. Petersburg's Musical Spring", international festival.
Telephone for contacts: 311-3548
E-mail: unicomp@slc.neva.ru

go back

go top

go home

russian version